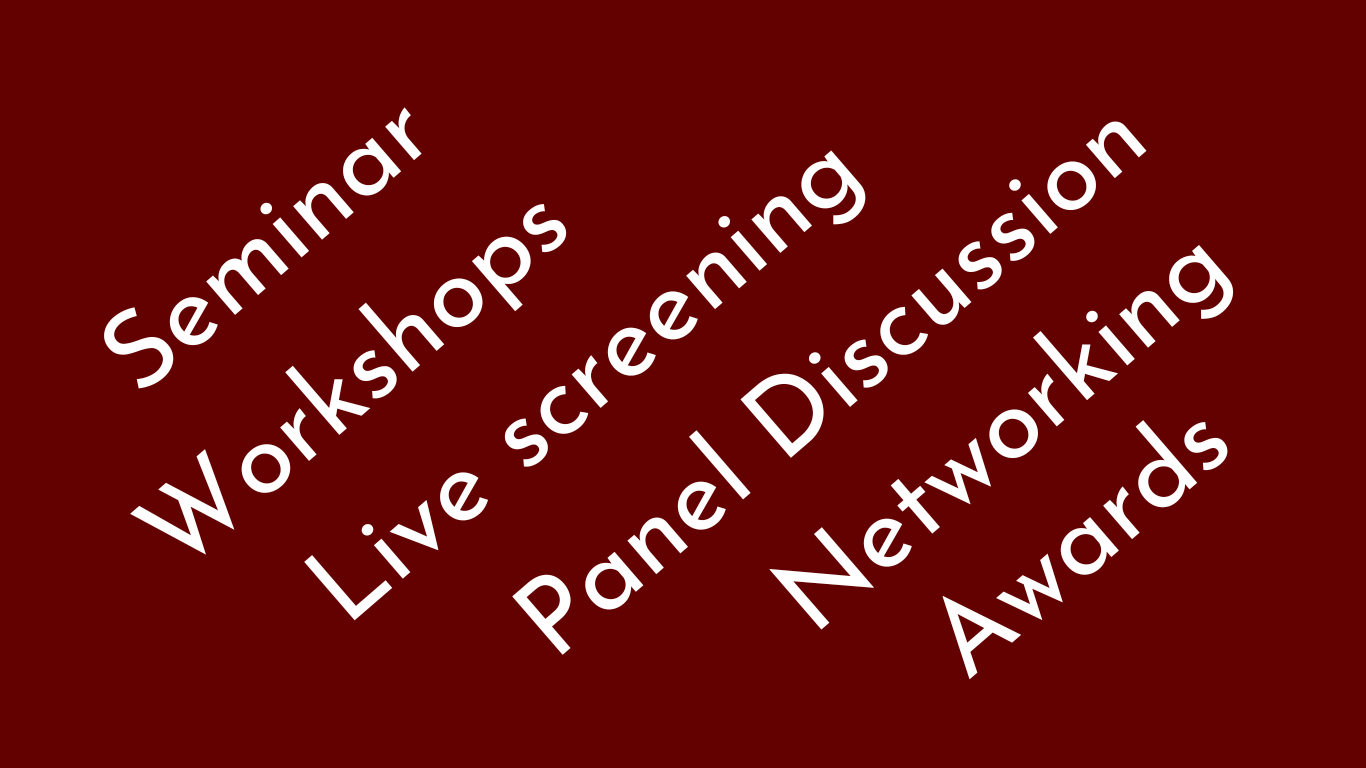 1st TNFF 2020 IN NUMBERS
Films Received 400 from 55 countries
Officially selected 298 from 52 countries
3300 registered viewers
12400 Views
12 Awards categories
169 films Nominated
56 Awards
The 12 Award categories are;
Feature Film
Long Documentary Feature
Short Documentary
International Short
National Short
Animated Short Film
Music Video
Indian Student Short
International Student Short
Special Jury Mentions
Special Festival Mentions
Audience Choice Award
REPORT OF 1st Tamil Nadu Film Festival (TNFF) 2020
The international competitive 1st Tamil Nadu Film Festival (TNFF) for all categories of films was held online from 25th October – 15th November 2020 in Chennai, Tamil Nadu, India. This was due to the COVID pandemic. An Inaugural ceremony was held online on ZOOM at 5:00 pm on 25th October 2020. The Closing Ceremony was held online on ZOOM at 5:00 pm on 22nd November 2020. All 56 Awards were declared duringthe Closing Ceremony.
TNFF isall about celebrating, educating, empowering, promoting, and proliferating amazing quality independent Cinema in Chennai (Formerly known as Madras) the capital city of the State of Tamil Nadu. TNFF aims to give opportunities to independent filmmakers to showcase their creativity. Introducing our audience to Independent content is our mission. Tamil Nadu Film Festival is a platform to promote inter-cultural relationships, discuss diversity in the current state of the Film Industry and help bring change in the future state of the Film Industry.
The eminent guest who adorned the INAUGURAL CEREMONY of the 1ST TAMIL NADU F ILM FESTIVAL 2020 were Rev. Fr. A.J. Thamburaj, S.J., Rector, Loyola College, for the academic year 1983-84. He is the pioneer who introduced the VISCOM course at Loyola College, for the first time in city of Chennai, the state Tamil Nadu and the country India; Mr. R. V. Udayakumar, Film Director & General Secretary, Tamil Nadu Film Directors' Union; Mr. DSR Subash, PRESIDENT, Tamil Nadu Union of Journalist; Mr. Bh. S. S. PRAKASH REDDY, Regional Secretary, Federation of Film Societies of India; Dr. M. Davamani Christober, Principal & Secretary, The American College, Madurai and S. S. Stanly, Film Director.
The first edition of Tamil Nadu Film Festival was a grand success though it was held online. It had 3300 registered viewers and received 12400 Views. TNFF received a total of 400 entries from 55 countries. After a tedious process, the jury did a remarkable job and selected 298 films from 52 countries as official selections. The Festival showcased 298 films from 52 countries under all the film categories like Fiction Features, Documentary Features, Documentary Shorts, Animated Shorts, Short Films, Music Videos, and Ad films. A total of 56 Awards were given out of 169 films Nominated under 12 Awards categories namely; Feature Films, Long Documentary Features, Short Documentaries, International Shorts, National Shorts, Animated Short Films, Music Videos, Indian Student Shorts, International Student Shorts, Special Jury Mentions, Special Festival Mentions and Audience Choice Awards.
As part of the TNFF program, there was a Panel Discussion about the "HISTORY OF TAMIL CINEMA", seminar on "UNDERSTANDING CONTENT ON OTT PLATFORMS" and INITIATING NEW DIALOGUE – DIRECTOR'S MEET Program.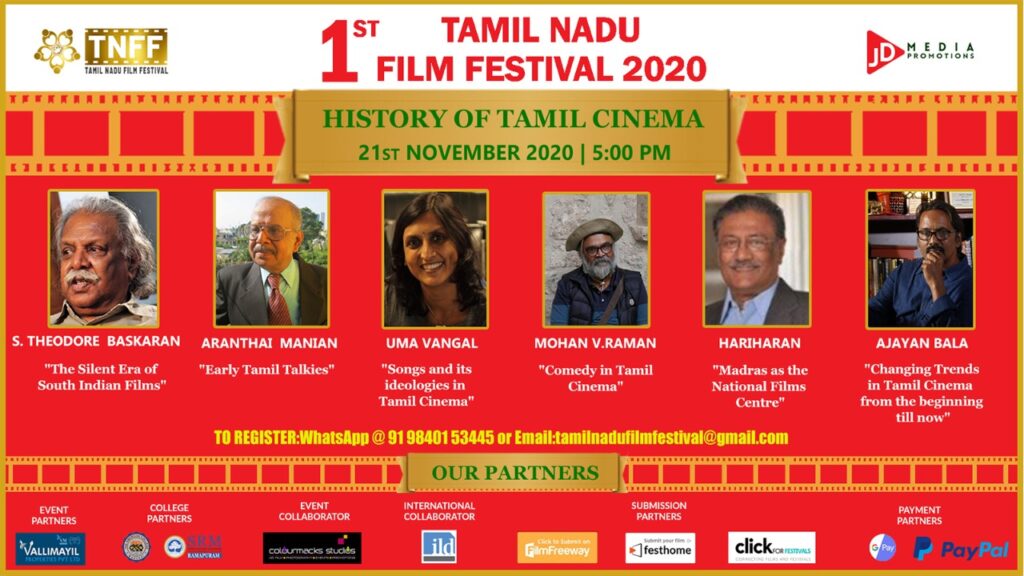 The panellists for a discussion about the "HISTORY OF TAMIL CINEMA" are; Mr. S. Theodore Baskaran, Mr. Aranthai Manian, Mrs. Uma Vangal, Mr. Mohan V. Raman, Mr. Hariharan Krishnan & Mr. Ajayan Bala. To give a brief about all the panellists; Mr. S. Theodore Baskaran spoke on the topic "The Silent Era of South Indian Films" S. Theodore Baskaran is a film historian, Researcher, author, writer, actor, and speaker. Baskaran worked as Researcher at Tamil Nadu State Archives for two years. He served as the "Special Officer For War Efforts" in Shillong during the Indo-Pakistani War of 1971. His book The Eye of the Serpent (1996) won the Golden Lotus (Best Book on Cinema) Award in 1997. He has also written several books and articles on film history in Tamil. He has written 16 books. He has lectured on cinema in many universities including Princeton University, The Australian National University, and the University of Chicago. In 2000, he won the "Ki Va Ja" prize awarded by the "Kamban Kazhagam". He was a Hughes Visiting Scholar at the University of Michigan in 2001 and taught a course on Film Studies. He was a jury member at the 2003 National Film Awards. He retired as the Chief Postmaster General of Tamil Nadu. During 1998–2001, he was the Director of the "Roja Muthiah Research Library". He has also acted in a supporting role in the 2010 Tamil film "Aval Peyar Thamizharasi". Baskaran is a keen bird watcher and a naturalist. He continues to contribute writings on nature and wildlife conservation.
Mr. Aranthai Manian spoke on the topic "Early Tamil Talkies" Aranthai Manian is an actor on stage plays/films/TV serials; A Script writer, Director in films and TV serials; A Radio Broadcaster and an Orator. He is the author of 35 books in Tamil and a freelance journalist for the past 40 years in Tamil and English. He was the Professor of Film Technology at SRM Sivaji Ganesan Film Institute (2008 to 2014) He is presently a Professor at Blue Ocean Film and Television Academy teaching film studies.
Mrs. Uma Vangal spoke on the topic "Songs and its ideologies in Tamil Cinema" Uma Vangal is a filmmaker, film professor, Fulbright scholar, columnist, public speaker and media analyst. Prof. Vangal teaches Script writing, Film direction, Popular Indian Cinema, Film criticism, Writing the short fiction film, Directing for Camera and Feminist film studies in India and the US. Currently she is an Adjunct faculty teaching Film Studies, Filmmaking & Cultural Studies at Asian College of Journalism, and LV Prasad Film Academy, Chennai. She will soon collaborate with an NYC based editor to complete 3 documentaries and take up a Fulbright Research Fellowship at Brooklyn College, New York to co-author a book on International Co-Productions.
Mr. Mohan Raman spoke on the topic "Comedy in Tamil Cinema" Mohan Raman, also known as Mohan V. Ram is an Indian actor, writer, Voice artist and orator. In 2017 and 2019, he was a Jury member for the National Film Award for Best Writing on Cinema. Mr. Raman is a film historian and writes for The Hindu. He has worked in many Tamil, Hindi and Telugu films and numerous Television serials. He has also lent his voice for many feature films. To list a few films that he had acted in are; "Minsara Kanavu", "Thulli Thirintha Kaalam", "Padayappa", "Traffic Ramasamy", "60 Vayadu Maaniram", "Kaatrin Mozhi" and "Ka Pae Ranasingam". He has also worked on Hindi-language films including "Sabse Bada Khiladi (1995)" and "Chennai Express (2013)".
Mr. Hariharan Krishnan on the topic "Madras as the National Films Centre" He is a Professor, Arts and Director Media Lab at KREA University. To give a brief about him; he graduated from the FTII in 1976. He has made 8 feature length films and over 350 short films and documentaries. He was the Director of the LV Prasad Film & TV Academy, Chennai (2004 to 2014). His Tamil film "Ezhavathu Manithan" made in 1983 won the National Award for Best Tamil Film & Afro Asian Solidarity award at the Moscow Film Festival '83
Mr. Ajayan Bala on the topic "Changing Trends in Tamil Cinema from Beginning till now" Ajayan Bala is an author, publisher, script writer, Film critic of Tamil cinema (Kollywood) He has authored some 30 books on various topics and nine among them are on cinema alone. Of the nine 'History of World Cinema' (Tamil) in three volumes – the Silent Era, the Renaissance Era and the Modern Era is considered to be his paramount contribution to Tamil cinema. He is the recipient of Tamil Nadu Government's Best Book of the Year Award in 2009. 'The Week' selected him as one of the 20 best writers from all over India in 2002. The Social Studies book of 12th Standard in Tamil Nadu Government's State Board Syllabus includes his article on "Film Studies" as a lesson. Currently he runs a library in the name of his guru, director Balu Mahendra, with the aim of further expanding the boundaries of Tamil Cinema via literature on cinema.
The Seminar on the topic"UNDERSTANDING CONTENT ON OTT PLATFORMS" was held online at 6:00 pm on 20th November 2020. The resource person for this was Mr. Girish Wankhede. Girish Wankhede is a renowned Trade Analyst in Mainstream Cinema for more than two-decade. Has been a National Marketing Head of PVR Cinemas the largest Multiplex Chain in India. He has been part of PVR Pictures in distributing domestic and International content. He is an expert in Cinema Distribution, Marketing, and Exhibition. Has been instrumental in hosting several National and International Film Festivals during his 10-year stint with Cinemax-PVR. Regarded as the one who rejuvenated the high-profile Premiere Screenings and Star-tours to promote the content. He has carried Cinemax Marathi Film Festival for consecutive five years in Maharashtra and was the recipient of several accolades from state Government and Private Organisations. He has been on the jury of National and International Film Festivals in Mumbai, Nasik, Jaipur, and Goa and understands content and content syndication. Currently, he reviews OTT content on YouTube and Podcast shows. He is a consultant to several bodies including an upcoming Cinema chain.
The program INITIATING NEW DIALOGUE – DIRECTOR'S MEET was organized online and focussed on live discussions with the Directors of the participating films. The directors from foreign countries expressed that the films from India were beautiful and unfortunately, they do not have opportunities to watch our films in their country.
The eminent members of the jury of the Tamil Nadu Film Festival were Mr. Vivek Mohan, Film Director, winner of the President's National Film Award in 1999 for his film "Malana-in search of…". He has served on many Juries including the prestigious Indian Panorama – non-fiction of IFFI Goa twice in 2010 & 2014. Mr. Kichas (KRISHNASAMY GOPALSAMY), Director of Photography (DOP), winner of Best cinematography award for the film "ARANMANAI KILI" He was DOP for 54 movies in Tamil, a few in Malayalam and Telugu. He has worked as a cameraman for 100's of documentaries & AD films; Mr. Ranjith Shankaran, Associate Professor, Department of Humanities & Social Sciences, Mahindra University, Hyderabad. Mr. Ranjith Shankaran has more than 30 years of experience as an editor and academician. He had worked at L.V.Prasad Film & TV Academy, Chennai and RKFA (Revathy Kalamandir Film Academy) Trivandrum, Kerala. A few students whom he had mentored are R. S. Prasanna (Director), Satyaraj Natarajan (Editor), Unnikrishnan P.P. (Editor), Ninad Khanolkar (Editor), Dhanush Nayanar (Sound Designer) and Santosh Nanda (Music Director).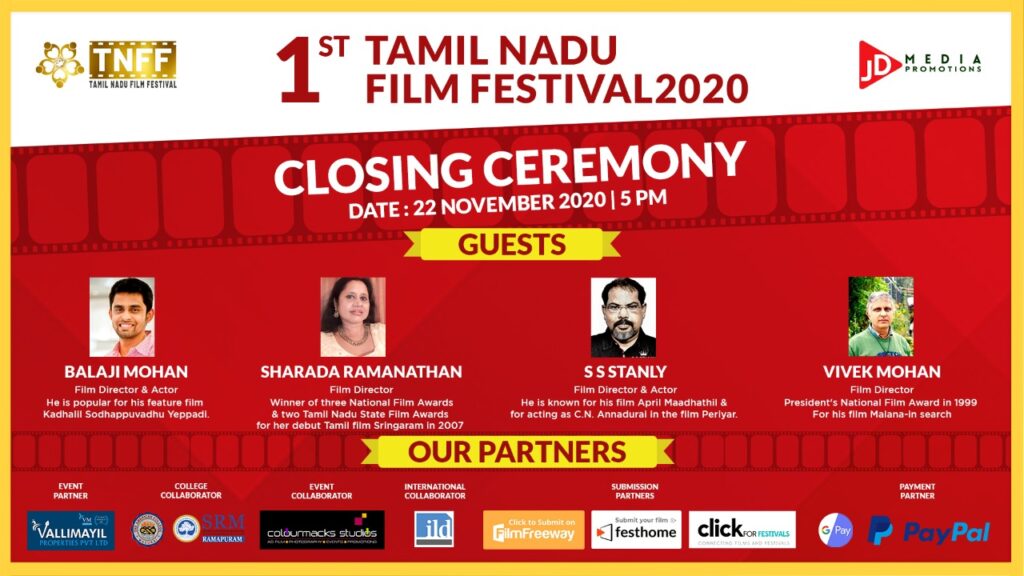 The respected guests who were present for the CLOSING CEREMONY were; Ms. Sharada Ramanathan, Film Director cultural thinker, and writer. She made her directional debut in the 2007 Tamil film "Sringaram" which won three National Film Awards. She has served as a jury for various film festivals including the Indian National Film Awards, IFFI Goa and International Macau Film Festival; Mr. Balaji Mohan, is a popular Film Director, Actor and Producer belonging to a new breed of filmmakers who were initially short Filmmakers. His short film "Kadhalil Sodhappuvadhu Yeppadi" was the most popular and went viral on YouTube. Through this short film, he proved his mettle and directed his first feature film "Kadhalil Sodhappuvadhu Yeppadi" in 2012 retaining the original title of his short for his feature film too. He is also known for directing films like "Vaayai Moodi Pesavum (2014)", "Maari 2015 (Rowdy Hero)", "Maari 2 (2018)". He then produced, wrote, and directed a web series in Tamil titled "As I'm Suffering From Kadhal", in which he also played an important role. In 2021 he produced "Mandela." The Film "Mandela" won Best Debut Film of a Director and Best Screenplay (Dialogue) at 68th National Film Awards; Mr. S S Stanly, Film Director and Actor, known for his film "April Maadhathil" and for acting as C.N. Annadurai in the film "Periyar". S.S. Stanley has worked with film directors including Mr. Bharati Raja, Mr. Mani Ratnam, Mr. Mahendran, and Mr. Sasi, and leading media personalities. He has over 2 decades of presence in the entertainment industry and tirelessly works for the betterment of directors being part of various film associations and The Head of the jury of Tamil Nadu Film Festival, Mr. Vivek Mohan, Film Director, winner of the coveted President's National Film Award in 1999 for his film "Malana-in search of…" He has served on many Juries including the prestigious Indian Panorama – non-fiction of IFFI Goa twice in 2010 & 2014. He has a vast experience doing numerous Ad films, Corporate documentaries, AV's, a few Docu-Drama FEATURES, Short Films, TV Shows & Scripts for feature-length FICTON FILM, ANIMATION & DOCU DRAMA. Currently, he is busy with film festival jury duty and Copywriting.
As part of recognizing the contributions of the audience, there was a contest for rating the officially selected films for all registered audiences. Out of that four people Mathisutha, S. K. Nikil, Nandhini and K Shobika were selected and given Rupee 500 each for ratings of the maximum number of films.
TNFF offered to view amazing, quality, and thought-provoking films, with interaction with filmmakers and the opportunity to choose the best film through the AUDIENCE CHOICE AWARDS and attend seminars on topics related to cinema. Tamil Nadu Film Festival was open only to registered participants
In these testing times of the pandemic, the 1st Tamil Nadu Film Festival certainly brought hope, joy, and peace and kept the trust of its participants and audience through its first edition.
LINKS TO ONLINE RESOURCES
The Online INAUGURAL CEREMONY can be viewed on YouTube Live
The Online CLOSING CEREMONY can be viewed on YouTube Live
https://www.youtube.com/live/Hd0jozc9COw?feature=share
The program panel discussion on the topic "HISTORY OF TAMIL CINEMA" can be viewed on YouTube Live